About us
Natalija Jermolajeva and Jekaterina Romanova, both authors of Correcty posture correcting T-shirt met at the Students Business Incubator IdeaLab in RTU. The idea of creating a T-shirt that helps to improve the posture arose naturally as both authors faced this problem and first created this product for themselves.
Pick a shirt
Natalija Jermolajeva has visited physiotherapy exercises from adolescent age, and she has tried the posture correctors of different producers, and realized that the existing correctors cannot provide the necessary daily support. They are either uncomfortable, they cannot be worn all day long or they are too visible to others. The doctors whom the authors addressed also confirmed that a back need freedom of movement and close shoulder fixation harms the posture rather than improves it. The only way to improve the posture is through the training of back muscles, and the Correcty posture correcting T-shirt performs this function on a daily basis.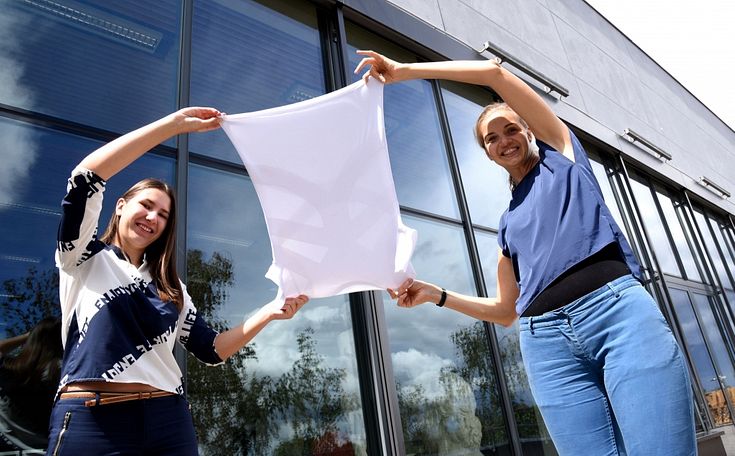 Our main objective was to create a wearable posture corrector that:
is easy to use – no additional adjustments required

;


is comfortable to wear– it doesn't rub, scratch or cause itching

;


pleasant to wear thanks to the soft material that is similar to cotton

;


is 'invisible' and can be adapted to any style

;


which improves well-being and increases self-confidence

.
The Correcty posture correcting T-shirt is elaborated by SIA Print Art, which is a social enterprise that aims to motivate people with disabilities to acquire education and live a wholesome life, as well as to break stereotypes about disabled people and their abilities.
We are convinced that a correct posture will increase your quality of life and self-confidence!
Your posture - your confidence!